About the Study
What is the Pacific Islands Families Study?
The Pacific Islands Families (PIF) Study is an ongoing longitudinal birth cohort study that has been tracking the health and development of 1,398 Pacific children and their parents since the children were born at Middlemore Hospital in South Auckland in the year 2000. It is the only prospective study specifically of Pacific peoples in the world. The Study is based within the Centre for Pacific Health & Development Research and the National Institute for Public and Mental Health Research at AUT University.
Foundational Leadership of the Study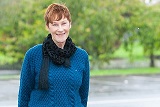 Professor Janis Paterson is the Foundation Director of the Pacific Islands Families (PIF) Study. She earned her PhD from the University of Auckland in 1994 and has twelve years of experience as a professional academic psychologist with research interests in both children's and adolescent health and development. She is currently Co-Director of the National Institute for Public Health and Mental Health Research and Associate Dean - Faculty of Health and Environmental Sciences (AUT South Campus).
What are the aims of the PIF Study?
The PIF Study's broad aims are to determine optimum pathways for Pacific children and families during critical developmental periods by identifying risk and resilience factors that influence positive and negative outcomes; and to provide Pacific-specific evidence and make empirically-based strategic recommendations to improve the health and well-being of Pacific children and families and address the social disparities they face in New Zealand.
Who funds the PIF Study?
Grants were awarded from the Foundation for Research, Science & Technology (FRST) in 1998 and the Health Research Council of New Zealand (HRC) in 1999 to undertake a pilot study that enabled instruments, recruitment, and interview procedures to be tested and refined. The main study commenced in 2000 and has primarily been funded by FRST and the HRC. In 2011, FRST was disestablished and replaced by the Ministry of Science and Innovation (MSI). In July 2012, MSI was merged into the Ministry of Business, Innovation, and Employment (MBIE). The PIF Study has also received funding from the Maurice & Phyllis Paykel Trust, Sport and Recreation New Zealand (SPARC; now Sport New Zealand), the Deafness Research Foundation, the Dental Research Foundation, ASB Charitable Trust, and the Ministry of Health. To date, the study has received approximately NZD$12.8 million in funding.
What is the PIF Study's design and methodology?
The PIF Study primarily collects self-reported data through structured interviews with mothers, fathers, and children. Its design and methodology is mainly quantitative and observational, however some supplementary qualitative projects have been conducted. The Study adopts a life-course approach to understand developmental trends across the lifespan, with a focus on critical developmental periods. See the following sources for further information on the design, methodology, and procedures of the PIF Study: Sundborn et al. (2011) and Paterson et al. (2006).
Who participates in the PIF Study and when?
At the Study's inception, participants were recruited where at least one parent identified as a being of a Pacific ethnicity and was a New Zealand permanent resident. Assessments with children have been administered at 6 weeks postpartum, and then at ages 1, 2, 4, 6, 9, 11, 14, 17, and 18 years. Interviews with mothers have occurred at the same timepoints (except at 17 years) and interviews with fathers have taken place at 1, 2, 6, 11, 14, and 18 years. The children's teachers completed questionnaires at ages 6, 9, and 11 years. This is shown in the diagram below.

Who are New Zealand's Pacific peoples?
Pacific or Pasifika peoples are a culturally diverse group comprising 8% of New Zealand's population. New Zealand's most recent census in 2018 showed that the seven largest Pacific ethnic groups in New Zealand were Sāmoans (49%), Cook Islands Māori (21%), Tongans (20%), Niueans (8%), Fijians (4%), Tokelauans (3%), and Tuvaluans (1%).
They are a relatively youthful population, with a median age of 21 years (36 for the total population) and a small proportion over the age of 65.
Over time the Pacific population has changed from a mainly migrant group to a largely New Zealand-born population. At the 2018 census, over half of the Sāmoan and Tongan populations and around three-quarters of the Cook Islands Māori, Niuean, and Tokelauan populations were born in New Zealand.
Pacific peoples are highly urbanised, with 97% living in urban areas and 66% residing in Auckland alone, particularly the South Auckland area.
Where does the PIF Study cohort live?
Since the PIF Study began in 2000, many families have moved out of the South Auckland area to other parts of New Zealand or overseas, particularly Australia. We have endeavoured to keep as many families participating in the Study as possible, regardless of location of residence, by employing web-based surveys, telephone interviews, or by sending interviewers to Australia and other locations. Retention has been high, with only 19 of the original cohort of 1,376 families (6.6%) having dropped out of the study as at August 2014.